Guide To Pickleball Paddles
Choose the right paddle to match your game.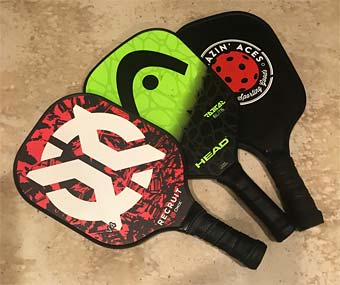 Pickleball Paddles
There is a wide variety of materials used to make pickleball paddles. Everything from wood, to plastic, to high-tech compounds. The composition and structural design effect price, which can range from about $15 to several hundred dollars for more sophisticated paddles. Beginners and intermediate players would do well to invest $50 or more in a decent paddle. Experienced players often go for the more expensive paddles that may match their particular playing style.
Wood Paddles
Generally the lowest cost paddles on the market, often these paddles are available for free use by members at gyms and sports complex. These paddles are functional, but by comparison are quite heavy and limit the power and influence on the pickleball.
Graphite Composite Materials
Graphite, mixed with other high-tech materials, formed in a "honeycomb" design is at the core of the most popular pickleball paddles today. The benefits of this construction method delivers strong, light-weight paddles with lots of pop. When given the choice, most players choose this style paddle.
Shapes & Sizes
Popular paddles vary slightly in shape - some wide and short, some longer and narrower (within regulation guidelines). Generally speaking, beginner and intermediate players would barely notice the difference, one to the other. However, experienced, competitive players may find one configuration more conducive to their specific style of play. Official pickleball paddles must comply to regulations. According to USA Pickleball rules, "The combined length and width, including any edge guard and butt cap, shall not exceed 24 inches (60.96 cm). The paddle length cannot exceed 17 inches (43.18 cm). There is no restriction on paddle thickness".
Major Pickleball Paddle Manufacturers
Diadem Sports Pickleball Paddles
Franklin Sports Pickleball Paddles
Out West Sport Pickleball Paddles
Selkirk Sport Pickleball Paddles
Pickleball Is Fun For All Ages!