Guide To Pickleball Balls
Indoor & Outdoor Pickleball Balls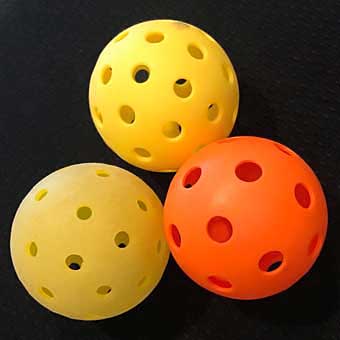 Pickleball Balls
There are two basic types of pickleball balls, indoor and outdoor. Outdoor balls are heavier than indoor balls and have more holes (typically 40), they are typically yellow or chartreuse. Indoor balls are lighter than outdoor balls with fewer holes (typically 26), they are generally orange, with color variations ranging from light orange, to dark orange, or redish-orange.
There are no official restrictions on color, except that they must be a consistent, single color. An official pickleball ball weighs from .780 to .935 ounces. The diameter of an official pickleball ball is 2.874 to 2.972 inches.
Pickleballs
Out West Sport Pickleball Balls
Choose The Right Pickleball For Your Style Of Play
Pickleball Is Fun For All Ages!